2.7.1

Process Safety Management
Management Approach
A Process Safety Management (PSM) framework and program based on an industry standard1 2 is in place which, when applied throughout the product lifecycle, aims to reduce the risk of major accidents. This approach incorporates industry good practice in Inherently Safer Design3 and Advanced Process Safety Barrier Management 4and applies a hierarchy of hazard management that follows:
Elimination – Avoid the hazard completely
Substitution – Reduce the severity of the hazard by changing its nature
Minimization – Reduce the hazard severity by minimizing its scale
Moderation – Reduce the hazard severity by changing the impact of a potential hazardous event
Segregation – Limit effects of a hazard by reducing its potential of causing harm
Simplification – Reduce the likelihood of a hazardous event by inherent features of the design
Engineering controls – Reduce the likelihood of the hazardous event or impact by adding controls to the design
Administrative controls – Reduce the likelihood of the hazardous event or impact by adding administrative controls
Personal Protective Equipment – Reduce the likelihood of impact to people by providing them with Personal Protective Equipment (PPE)
The PSM framework consists of a set of risk-based priority activities and practices that are being embedded in the Company's GEMS and the GTS, which have been aligned with the ISRS improvement activities.
All LOPC events occurring offshore are reported to the relevant parties within the organization and analyzed to identify appropriate treatment measures. SBM Offshore follows IOGP 456 and American Petroleum Institute (API) 754 standards for LOPC classification. The annual statistics are compared to previous years and benchmarked against IOGP averages.
2019 performance
Key achievements
Development and implementation of a revised Hazards and Effects Management Process, based on industry best practice.5
Implementation of a digital permit to work platform on most of our operated assets.
Key results
The Company did not meet its target for Tier 1 Process Safety Events (PSE) as there were two Tier 1 incidents in 2019, which is one higher than targeted.
The number of Tier 2

PSE

did met our target which was to be better than the

IOGP

average, based on number of offshore hours worked.
A total of 348 process related

LOPC

events were recorded, of which 199 were of

API

754 classified materials.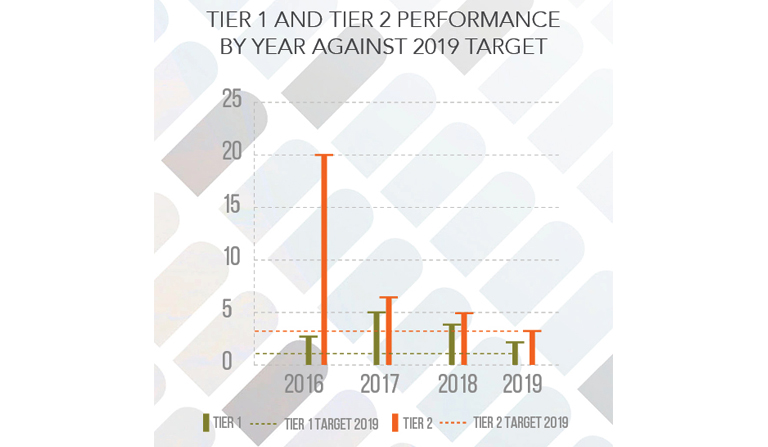 future
The following objectives have been set for 2020:
As with 2019, for 2020

SBM Offshore

have set their targets for Tier 1 and Tier 2

PSE

to be better that the

IOGP

average for the amount of manhours worked. Based on last years manhours, this would relate to one Tier 1 and three Tier 2 events.
Continue implementation of the

PSM

framework throughout our business processes.