2.5.1

Fleet

SBM Offshore's assets are key value drivers for the Company, generating a predictable revenue for SBM Offshore through long-term Lease and Operate contracts. The expertise and experience of around 2,500 offshore crew and onshore staff supporting the fleet ensures value creation through the safe, reliable and efficient operation of the Company's offshore fleet.
KEY FIGURES
5.9 billion barrels of production cumulated to date
8,722 oil offloads cumulated to date
Over 330 cumulative contract years of operational experience
2019 represented a strong year for the Company's operations, with particularly good performance achieved in terms of occupational and process safety and the highest production uptime of the last six years. As a forward-looking operator, SBM Offshore works to leverage its unrivalled experience and industry-leading digital and technological solutions to deliver sustainable, ethical operations with highest standards of safety, reliability and efficiency.
In 2019, accelerated digital initiatives under the 'Smart Operations' program have realized the first steps of an ambitious transformation plan aimed at delivering safer, more reliable and more efficient operations.
In Guyana, operational readiness milestones were achieved well on schedule and organizational presence established ahead of the start up of the FPSO Liza Destiny. Initiatives are ongoing to further develop SBM Offshore's presence in-country and receive additional units in the coming years.
In 2019, the following changes occurred in the fleet operated by SBM Offshore:
FSO

Yetagun, which was decommissioned and sold to new owners in 2018, underwent recycling in-line with

SBM Offshore

policies and in accordance with the Hong Kong Convention.

PFC

(

MOPU

) Deep Panuke, which ceased gas production in 2018, continued to be decommissioned in close collaboration with the client, aiming for a scheduled completion during 2020.

FPSO

Liza Destiny arrived in Guyanese waters in August 2019 and, following receipt of its certificate acceptance from the client, joined

SBM Offshore's

fleet on November 1, 2019. First oil was achieved on

December 20, 2019.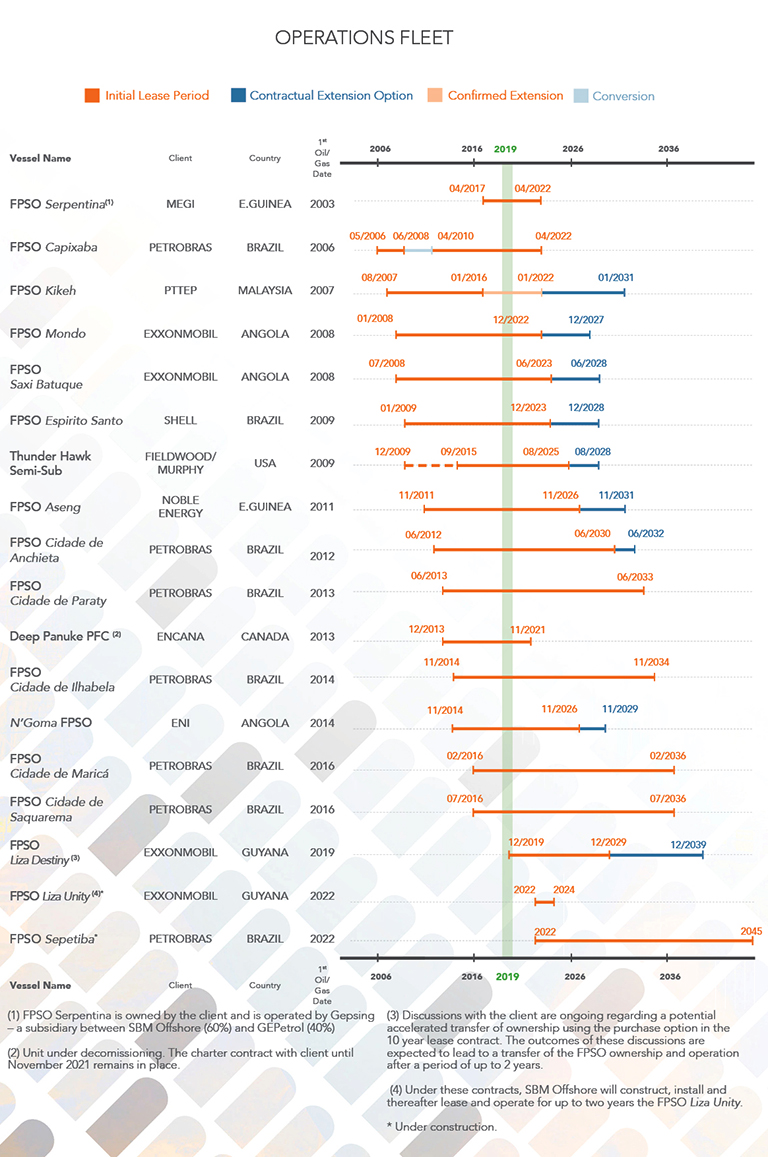 FULL FLEET (AS OF DECEMBER 31st, 20191)
At the end of 2019, SBM Offshore was responsible for operating 16 units in the fleet across the globe, consisting of:
14

FPSO

s
1

MOPU

under decommissioning
1 Semi-submersible unit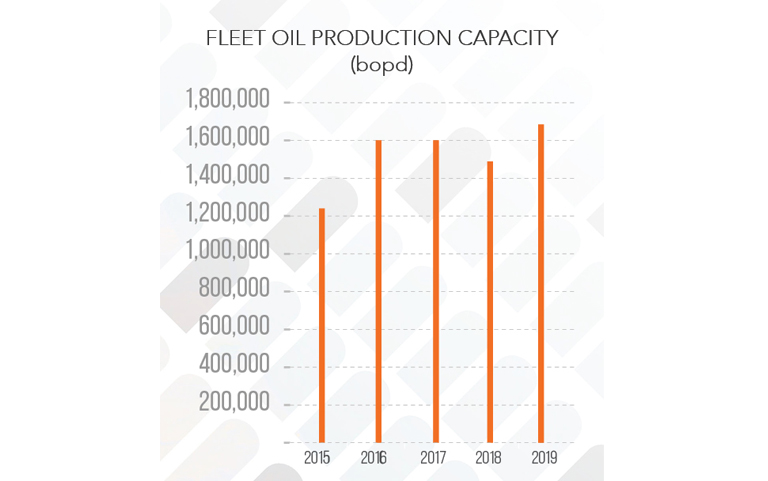 operational performance
The main production performance indicator of the fleet is 'Production Uptime', which measures the percentage of time in which a unit is available to produce. In 2019 production uptime was at a six-year high of 99.4%. The improved availability compared to 2018 was essentially due to a strong recovery on FPSO Capixaba following planned maintenance and life-time extension activities in 2018. This was matched with a strong underlying performance across the remainder of the fleet, with our latest generation 'G3' fleet in Brazil's Santos basin, in particular continuing to deliver at or near nameplate.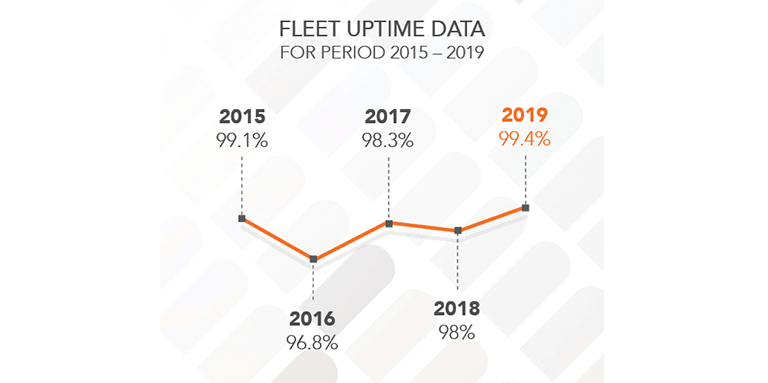 Various initiatives were undertaken in 2019 to enhance the operational quality and efficiency through:
Continued focus on leadership and competence strengthening, supported by a mature talent program providing improved positioning to meet future growth.
Improved planning capability and tools fostering greater efficiency in daily offshore operations, shutdown management and project execution.
Deployment of digital solutions improving offshore operations, asset monitoring and predictive capability.
Partnership signed with digital provider to build machine learning and artificial intelligence tools.
Enhanced local content and structure to support Guyana operations, with the wider ambition to combine positive social impact and performance in this new country of operations.
Asset integrity, maintenance AND cost management
SBM Offshore's approach to asset integrity is to target asset preservation with optimal lifecycle costing. In 2019, progress was made on:
Creation of a digital environment, data connection and management under the Operations monitoring center to support the development of predictive maintenance models for equipment to asset optimization.
Process safety leadership and Process Safety Management capability, supported by behavioral rules to prevent the occurance of process safety events, resulting in progress in leading process safety

KPI

s and Loss of Primary Containment (LOPC) reporting.
Introduction of technological solutions, such as offshore mobility devices, drone technology, virtual reality applications and tools supporting equipment integrity (Ex.) program for ignition risk management.